Pokita
Dachshund mix
Female
Medium (20-50 lbs)
Status: Adopted
Dachshund mix
Female
Medium (20-50 lbs)
Status: Adopted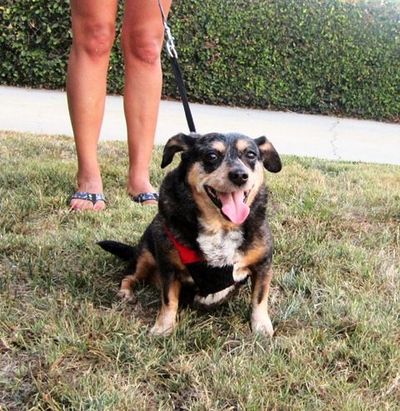 Pokita (or Kiki – I've been calling her both), 9yr old Doxie mix.
This adorable lady came to us a bit nervous after her guardian passed away and she had nowhere else to go. Volunteers in Southern California reached out to us, and there was no way we could say no to Pokita's silly smile.
Pokita is a calm, loyal, 9 year old beauty. She is in great health and very affectionate. Pokita loves belly rubs and long walks, which is good because she could certainly use a bit of exercise (she is 22lbs of pure love). She'll walk for as long as you are willing to go, all she ask is that she gets to say hi to people and dogs as she trots along. She is always smiling and is very easy going at home. She has been wonderful with other dogs and children and cats. Pokita just needs a home where she will be able to get just as much love as she gives (and maybe belly rubs as well).
Here is a video of her (please note name and bio in video are wrong, but this is definitely our little girl). Video
We're delighted to report that Pokita is currently in a loving and caring home. Thanks to all the wonderful friends of Muttville who helped to make this happen.