Pepita 4319
Dauschund
Female
Small (6-20 lbs)
Status: In Muttville's hospice program
Dauschund
Female
Small (6-20 lbs)
Status: In Muttville's hospice program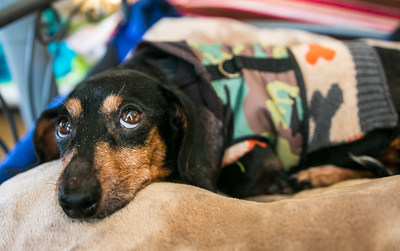 Meet Pepita! This adorable Dachshund is looking for a loving home to spend her golden years in. She was found as a stray in rough shape and is really enjoying being pampered here at Muttville! Pepita does well with other dogs (as long as they don't disturb her naps). She likes exploring her surroundings and loves treats! Can you give this loving gal the happy ending she deserves?
Due to her advanced age and spinal issues Pepita is available for fospice adoption. Her ongoing care will include taking her to regular vet visits and giving her lots of love.
Pepita is about 14 years old and weighs 10 pounds.
After being diagnosed with a terminal illness, Pepita is living life to the fullest in our Hospice Program, under which one of our special hospice families has provided her with a loving home and the very best possible end-of-life care. Please wish Pepita well!

Would you like to support the dogs in Muttville's Hospice Program through a donation? Click here to donate items, services or funds.