Patron 2437
Bishon Frise mix
Male
Small (6-20 lbs)
Status: In memoriam
Bishon Frise mix
Male
Small (6-20 lbs)
Status: In memoriam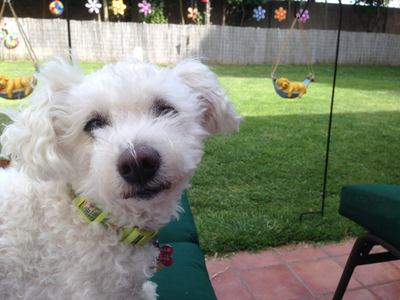 Want an active new friend that loves to play and will keep up with you on hikes?? Well, here's Patron and he is ready to roll! Super social, and ready for adventure. Patron is a young 7 year old, he weighs about 12 pounds and seems to always have a grin on his face.
He is a pistol! We love him but he can be bossy so a home without children would be best for this dude.
He is very smart and eager to learn new things. He is living wonderfully with 2 other dogs in his foster home.
Patron loves his daily walks and he's a very affectionate dog, loves sitting in laps.
We can't believe that someone would abandon this sweet loving boy.
Sadly, Patron has passed away. But thanks to wonderful friends, he spent his final days in a loving home.