Mr Rogers 4830
Poodle Mix
Male
Medium (20-50 lbs)
Status: In Muttville's hospice program
Poodle Mix
Male
Medium (20-50 lbs)
Status: In Muttville's hospice program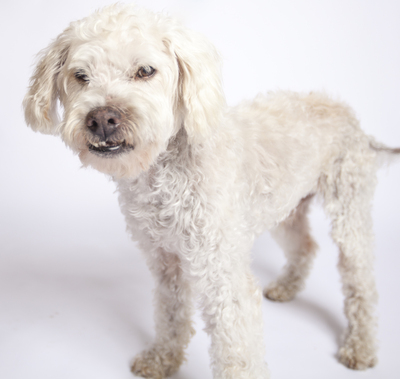 Nice to meet you, I'm Mr. Rogers! I'm a handsome poodle (if I do say so myself) waiting for my forever home.
I love to hang out with other dogs, go for walks, and make human friends. I'm friendly towards everyone and just love people. I'm also pretty active and love being out on walks. My favorite activities are meeting dogs (I'm a ladies man), going for walks, and eating yummy snacks. I'm a fun and interesting dog with a great personality…mind bringing me home with you!?
I'm 11 years young and weigh 25 pounds. I'm the perfect medium size ;)
Watch him getting some pets and naptime!
After being diagnosed with a terminal illness, Mr Rogers is living life to the fullest in our Hospice Program, under which one of our special hospice families has provided him with a loving home and the very best possible end-of-life care. Please wish Mr Rogers well!

Would you like to support the dogs in Muttville's Hospice Program through a donation? Click here to donate items, services or funds.