Mo
Chihuahua/Terrier mix
Male
Small (6-20 lbs)
Status: Adopted
Chihuahua/Terrier mix
Male
Small (6-20 lbs)
Status: Adopted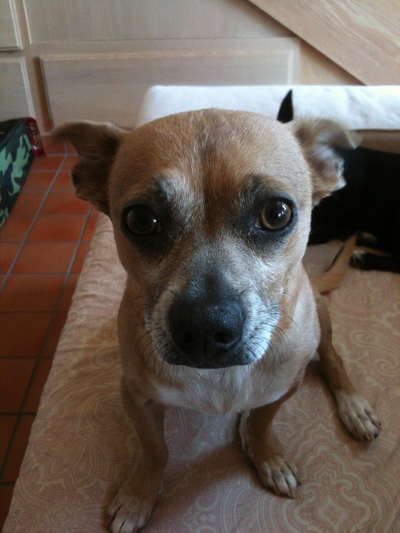 Mo is a 7 year old gentleman with a very young spirit and a big personality. He was found wandering the streets of East Oakland a couple of months ago skinny, limping and with a scraped up paw and tail which have since healed.
Mo actually came with a microchip and after some research, I found out that his past owner was arrested for burglary in 2010…maybe that's why they never returned my calls. It's not clear how long Mo was living on the streets but he has a sweet soul – he loves his people, enjoys play time with his doggy companion, shares his toys and food, and can sing a good tune when in the mood.
He's good with other dogs although big dogs excite him when he's on a leash. He's too interested in cats so he'd probably be best in a home without them. We are working on leash manners and basic commands. He's used to the gentle leader and we have started doing clicker training.
Mo is a very loving and devoted dog and is seeking the same in his new owner. See more pics and videos of Mo
We're delighted to report that Mo is currently in a loving and caring home. Thanks to all the wonderful friends of Muttville who helped to make this happen.