Mickey Mouse 4943
Miniature Pinscher Mix
Male
Small (6-20 lbs)
Status: Adopted
Miniature Pinscher Mix
Male
Small (6-20 lbs)
Status: Adopted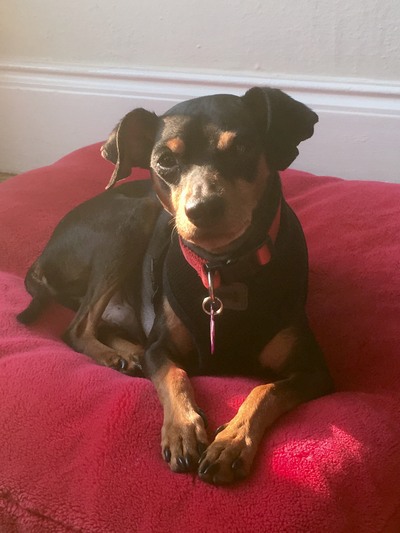 Mickey Mouse is the sweetest little Miniature Pinscher, who would love to be a part of your family.
Mickey Mouse is so excited to be at Muttville, that he couldn't stop bouncing around once he arrived. This gentleman has a spunky personality, and loves meeting new people and other dogs. He is a spry young senior, who would do well in an active household. Come meet this happy old man today!
We think Mickey Mouse is 8 years young and weighs around 10 pounds.
Here's what Mickey Mouse's foster has to say about this boy:
Mickey Mouse is active! He is more like a pup than a senior dog. He's super cuddly, affectionate and loves to do tricks. He enjoys plenty of walks, but also naps a lot. Mickey Mouse has had a couple of accidents in the house but we are working on his house-training. He loves to bask in the sun!
We're delighted to report that Mickey Mouse is currently in a loving and caring home. Thanks to all the wonderful friends of Muttville who helped to make this happen.