Mari
Staffordshire Terrier/Pit Bull
Female
Large (50-90 lbs)
Status: Adopted
Staffordshire Terrier/Pit Bull
Female
Large (50-90 lbs)
Status: Adopted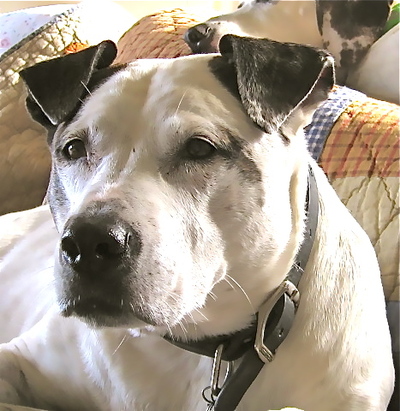 We have a lovely senior Pittie girl at Muttville that is good with cats and other dogs!!
Mari is somewhere between 8 and 10 years old.. She lives in a household with dogs and a cat. She is very loving and intelligent. Mari knows basic commands like;sit, stay, come, down and shake. She is fully housebroken. Her owners have to leave their house. If you can find her a foster home I would be forever grateful and unbelieveably relieved.
We're delighted to report that Mari is currently in a loving and caring home. Thanks to all the wonderful friends of Muttville who helped to make this happen.