Margo 1410
wheaton terrier Mix
Female
Medium (20-50 lbs)
Status: Adopted
wheaton terrier Mix
Female
Medium (20-50 lbs)
Status: Adopted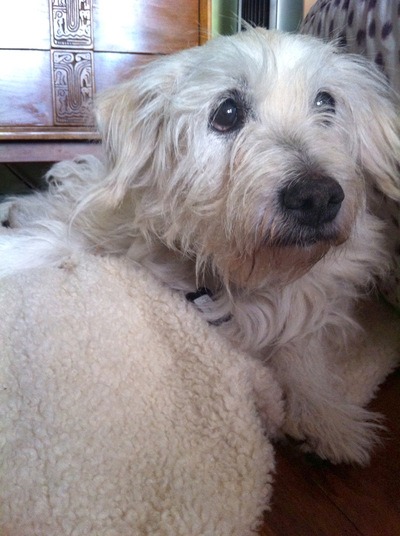 Hello, my name is Margo! I'm an all white terrier mix with a sweet and soulful face, I weigh about 30 pounds and I'm probably about 10 years old.
I ended up the San Jose Animal Shelter after a nice woman found me limping on the street. Being at the shelter was no fun at all, but thankfully Muttville found me and is giving me this wonderful second chance at a new life. I am housetrained and I can live with cats, too.
I'm a mellow girl that prefers to stay out of the fray and instead curl up in a nice warm bed, but I love being taken on walks with my friend Chada, the cocker spaniel! I'm still haven't completely come out of my shell, but I welcome all affection and I know that when I find the right home, I'll be able to be the happy, loving dog that I know I can be.
Maybe you will be the one that gives me that special forever home!
We're delighted to report that Margo is currently in a loving and caring home. Thanks to all the wonderful friends of Muttville who helped to make this happen.