Mandy 1419
Golden Retriever
Female
Large (50-90 lbs)
Status: Adopted
Golden Retriever
Female
Large (50-90 lbs)
Status: Adopted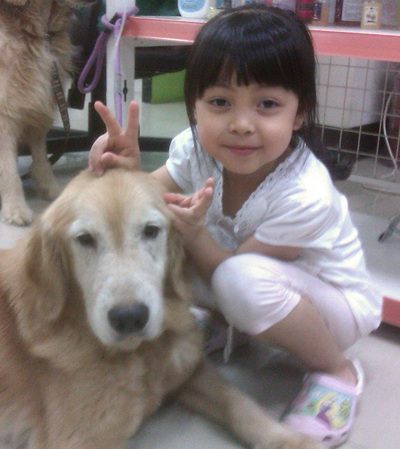 Meet Mandy, a gorgeous Golden gal that just got off the plane from Taiwan!!!
Mandy's learning to adjust to a new language and a new life, but she's a social butterfly, good with dogs of all sizes, and cats too. And she loves people: kids, strangers, friends, she loves them all!!! Her excitement for life is inspiring and contagious. What home or family couldn't use a little more of that in their life??
Mandy is a petite Golden, weighing 57 pounds. We think she is around 7 years old, but she has plenty of pep! She loves her walks and is good on leash. She's also crate trained.
Although you'd never know it, Mandy's road to Muttville has not been paved in happiness. In Taiwan, golden retrievers are overbred because they are cute when they are young, but when they become old, they are often tossed out on the streets. Caring rescues and fosters take some of these dogs in to rehabilitate, but it's very hard to find homes for senior dogs there. Muttville has been working with a local rescue, Love & Second Chances, to bring some of these dogs over to the states where there is a higher demand for these breeds, and Miss Mandy is one of those lucky dogs!
Click here to watch a video from KGO-TV of Mandy and her travelling companions arriving at SFO.
We're so happy to be able to welcome this beautiful, sweet girl to her new life. Now all we want is to see her find a forever home that will love and cherish her the way she has always been meant to be. If you'd like to give Mandy that gift, get in touch today!
We're delighted to report that Mandy is currently in a loving and caring home. Thanks to all the wonderful friends of Muttville who helped to make this happen.