Lulu 4
Chihuahua mix
Female
Small (6-20 lbs)
Status: Adopted
Chihuahua mix
Female
Small (6-20 lbs)
Status: Adopted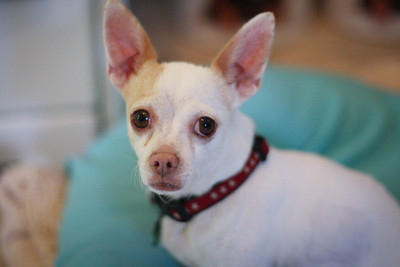 Lulu was surrendered to a veterinary hospital during her abnormal pregnancy. A kindhearted vet tech took on the dog's physical and financial care to save her life and paid for her C-section along with aftercare so that Lulu could have another chance.
Now that she is healing, Lulu has really perked up. She has continued to have a really sweet nature, and is tolerant of handling of her feet and mouth.
Lulu gets along with other dogs and even does well around the feral cats she has seen. She will make a wonderful companion!
We're delighted to report that Lulu is currently in a loving and caring home. Thanks to all the wonderful friends of Muttville who helped to make this happen.