Lucy2
Cocker Spaniel
Female
Small (6-20 lbs)
Status: Available from another organization
Cocker Spaniel
Female
Small (6-20 lbs)
Status: Available from another organization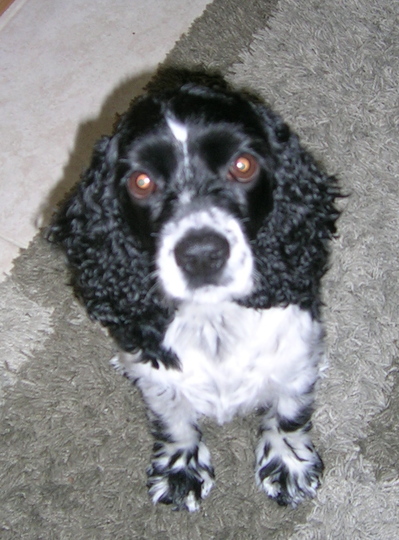 Lucy is sweet and low maintenance. She is so beautiful with a very unusual coat for a cocker spaniel. She is an AKC papered cocker spaniel, and was bred to be a show dog, but she never grew big enough. Lucy is about 18 pounds. Black and white.
She is 14 years old and a little hard of hearing.
Lucy is house trained and is great on walks. She will lay around on the couch with you or go for long walks. She wants to be in the same room as her family. She is not a cuddler, but she is a very good companion.
She is really a sweet, wonderful dog and we love her very much. She has taken to nipping at our baby, and now that he is walking around it is really making Lucy crazy. We would never rehome her if she was safe around our baby, but she deserves more attention and not to be confined behind a baby gate all day.
As of 10/19/2017 she is still looking for her new home.
Thank you for your help in finding Lucy a new home.
Allyssa Wickstrom | allyssawickstrom@gmail.com | 818.519.0176
This is a courtesy listing from another rescue organization. If you are interested in adopting Lucy and want to learn more about her, please Contact: Allyssa Wickstrom @ 818-519-0176 or allyssawickstrom@gmail.com.
Posted on 03.10.17