Lucia 2
Bichon Frise
Female
Small (6-20 lbs)
Status: Adopted
Bichon Frise
Female
Small (6-20 lbs)
Status: Adopted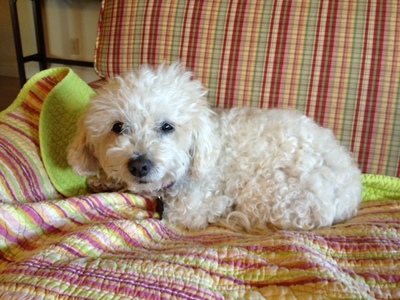 Hi, My name is Lucia, but I go by Lucy. I am a lucky girl! I was saved from a shelter and am now ready for my forever home. My foster mom says I'm really cute, happy and easy. I love to sleep in my comfy bed, go for short walks , ride in the car and explore the yard.
I am house trained as long as I have access to the outside when I need to go. They say I'm about 12 years young and weigh 9 pounds. I have a grade 5 heart mumur, am hard of hearing,
and have a collapsed trachea, but they don't stop me. Otherwise my heart looks healthy and the vet says I could live a long and happy life, with possible heart meds in the future. I only have one really pretty tooth left, so I have to eat canned food, which I love.
Although I like other dogs, I would prefer to be an only dog or have a calm furry friend. I would love a quite home with a stay at home person who can give me love, attention and companionship. Are you the one?
We're delighted to report that Lucia is currently in a loving and caring home. Thanks to all the wonderful friends of Muttville who helped to make this happen.