Lizzy 4849
Terrier
Female
Small (6-20 lbs)
Status: Adopted
Terrier
Female
Small (6-20 lbs)
Status: Adopted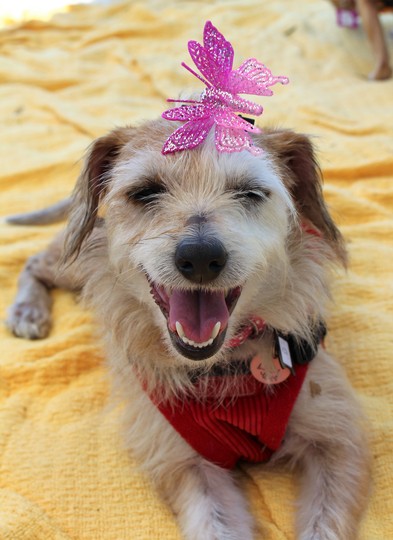 Meet Lizzy! This girl is so happy she's sure to put a smile on your face and brighten your day!
Lizzy is a brand new pup who came to us from Salinas after being found as a stray. We don't know about her previous home life, but Lizzy is clearly well socialized and very sweet. Lizzy loves meeting new people, hanging out in our office, and going for walks. She gets along well with dogs of all sizes. Just about the perfect senior gal!
Lizzy is 11 years young, weighing 16 pounds.
Here's what her foster has to say about her:
Lizzy is super loving & great with humans! She has done well with me and the dog sitter. She will happily hang out with whatever humans are in the vicinity. She just wants to be involved in whatever is going on. She is very friendly when meeting strangers & very kind with children. She nuzzles right up to people and plops down into their lap upon first meeting them. Lizzy has lots of energy :) she has been a great jogging companion and does not seem to tire out on long walks in the woods. She is always ready to hop up and be active! However, she is also content to take lots of naps on the couch. One of the things I admire about her is how quickly she transitions from an active playful state to mellow nap-and-cuddle time. She has been totally neutral about sharing space with a cat. Pretty much ignores them. Lizzy seems to be entirely house-trained! We have not had any accidents. She is just the cutest!
We're delighted to report that Lizzy is currently in a loving and caring home. Thanks to all the wonderful friends of Muttville who helped to make this happen.