Lamar 4616
Poodle Mix
Male
Small (6-20 lbs)
Status: Adopted
Poodle Mix
Male
Small (6-20 lbs)
Status: Adopted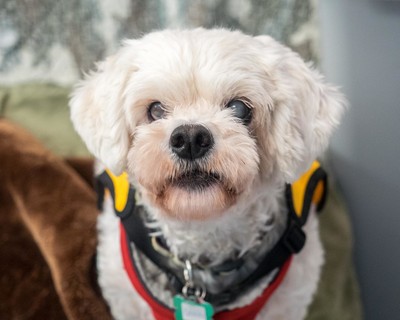 Despite being found as a stray in Oakland, Lamar is just about the sweetest poodle you'll ever meet! This happy boy loves everyone he meets, does great with other dogs, and has a wonderful temperament. You can't go wrong with this adorable pup! We are still getting to know Lamar but we know he'll make a loyal, loving companion!
Lamar is 10 years young and weighs 18 pounds.
Here's what Lamar's foster has to say about him:
Lamar is very playful and loving! The two things he loves the most are playing & cuddling with you (especially if you give him belly rubs!). He loves meeting new people & sitting on their lap to give them love! I would say he has a medium activity level. He likes to play with his toys quite a lot but also enjoys just hanging out on the couch with you! He's great with other dogs! He's very polite when meeting other dogs on a walk and mostly just lets them sniff him, says hi then moves on! He's ADORABLE & basically a teddy bear. He loves cuddling & would cuddle with you all day if you wanted to. Despite his cataracts he learned the stairs the first day we brought him home and was jumping on and off the couch himself by the third day. He's very good on a leash and doesn't mind when you put eye drops in or need to pull something out of his fur. He LIVES for belly rubs!
We're delighted to report that Lamar is currently in a loving and caring home. Thanks to all the wonderful friends of Muttville who helped to make this happen.