Jessie 4942
Bichon Frise
Male
Small (6-20 lbs)
Status: In Muttville's hospice program
Bichon Frise
Male
Small (6-20 lbs)
Status: In Muttville's hospice program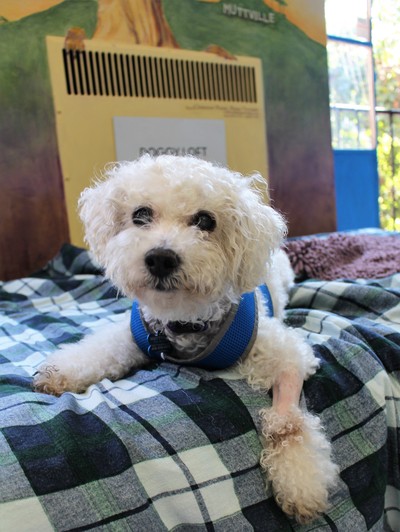 Jessie is a precious white ball of fluff, who would love to be your best friend!
Jessie comes to Muttville after his loving owner had to move to a senior living facility and could not take Jessie with them. They described Jessie as loving and friendly to all people and handles easily. He gets along well with other dogs, and has previously lived with cats. This sweet boy would love nothing more than a warm comfy bed, and a loving friend in his retirement years, could that be you?
Due to Jessie's advanced age and heart disease, Jessie is available for adoption through Muttville's hospice care program.
We think Jessie is around 14 years young and weighs around 16 pounds.
Look for Jessie in this cute video!
After being diagnosed with a terminal illness, Jessie is living life to the fullest in our Hospice Program, under which one of our special hospice families has provided him with a loving home and the very best possible end-of-life care. Please wish Jessie well!

Would you like to support the dogs in Muttville's Hospice Program through a donation? Click here to donate items, services or funds.