Jake 1389
Bichon Frise
Male
Small (6-20 lbs)
Status: Adopted
Bichon Frise
Male
Small (6-20 lbs)
Status: Adopted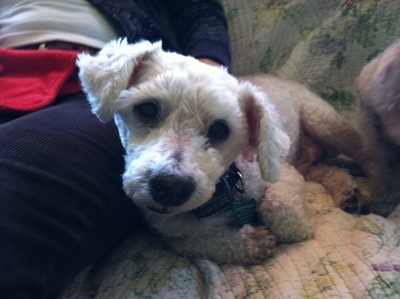 My name is Jake and I'm a 10-year-old bichon frise mix. I was brought to Muttville from Contra Costa Country Animal Services and I'm more than ready to be adopted.
I enjoy the simple things in life such as sleeping, eating, and unconditionally loving my guardian. I weigh a bit over 16 pounds so don't worry about me taking up much room! I prefer quieter homes and the regular stroll around the block. I'm really easy to take care of and am quite a low maintenance pup. I promise that I'll be your best friend and put a smile on your face each and every day.
We're delighted to report that Jake is currently in a loving and caring home. Thanks to all the wonderful friends of Muttville who helped to make this happen.