Hendricks 1384
Terrier mix
Male
Small (6-20 lbs)
Status: Adopted
Terrier mix
Male
Small (6-20 lbs)
Status: Adopted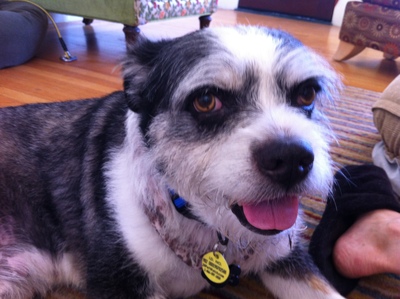 Meet Hendricks – he's a very lovable guy who loves loves going on walks and smelling the flowers (he would do best with lots of short walks rather than fewer long ones). He is friendly with other dogs and kids too. He's just an easy going fella. He can walk just fine off leash or on. He is independent but ultimately likes to be wherever you are. He can hang on his bed or yours, matters not to him. Hendricks responds well to training and knows "Sit" and listens very well to correction.
Hendricks is just a pretty happy-go-lucky guy, most of the time, but can be protective, he will need an experienced dog adopter that can continue his work around strangers, but with the right home, he is a gem!
We're delighted to report that Hendricks is currently in a loving and caring home. Thanks to all the wonderful friends of Muttville who helped to make this happen.