Hank Jr 4971
Chihuahua Mix
Male
Small (6-20 lbs)
Status: Adopted
Chihuahua Mix
Male
Small (6-20 lbs)
Status: Adopted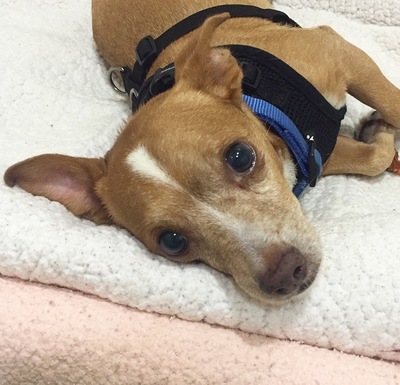 Handsome Hank Jr would love to be a part of your loving family.
Hank Jr comes to us from Texas, part of a group of dogs that Muttville rescued to help make room for animals displaced by Hurricane Harvey. Understandably, this little guy is going through a big transition with all the changes he's gone through. He would love nothing more than a kindred spirit with a soft touch that will help him feel safe and comfortable in his retirement years.
The smallest of our Texas dogs, Hank Jr. is proving that while not everything is bigger in Texas, he can sure pack a lot of sweetness into a small package.
This darling boy is good with other dogs but may be a little shy at first around people. He would love an understanding forever friend to help him build his confidence back up. Hank Jr would thrive in a calm environment where he can take long naps on a soft bed. Could that be with you?
We think Hank Jr is at least 7 years young.
Look for Hank in this cute video!
We're delighted to report that Hank Jr is currently in a loving and caring home. Thanks to all the wonderful friends of Muttville who helped to make this happen.