Greta 2
Australian cattle dog mix
Female
Medium (20-50 lbs)
Status: Adopted
Australian cattle dog mix
Female
Medium (20-50 lbs)
Status: Adopted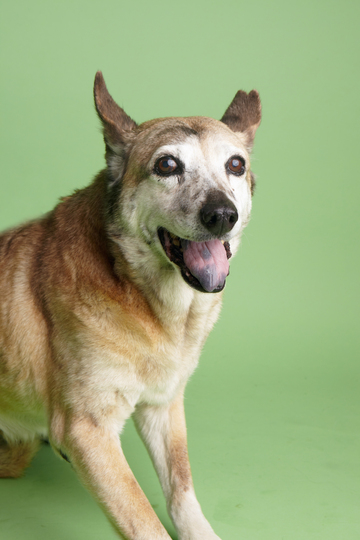 Our beautiful miss Greta is one of the prettiest girls here at the Muttville headquarters. This Australian cattle dog mix has been through a lot in her 10 years of life, but she isn't letting that get in her way.
This poor little girl spent her entire life living in a backyard with over 150 other dogs; a hoarding case that was busted by the Humane Society of the United State. When we heard about her, we just had to save her and her sister Gracie. You can even see a bite mark on her ear from when she attacked by other dogs just for food.
Because she hasn't been exposed to a lot of human contact, this little lady is incredibly shy about being touched but gets more and more comfortable every day. Greta is sweet to everyone and wouldn't hurt a fly. She also loves all of the other Muttville resident dogs.
Each day she's getting more comfortable around people and don't hesitate to take a tasty treat from a nice person.
Because of her past, Greta would prefer to be in a home that is patient, and where her new family will give her time to learn just how great people can be.
Check out Greta in this video!
We're delighted to report that Greta is currently in a loving and caring home. Thanks to all the wonderful friends of Muttville who helped to make this happen.