Gomer 3162
Lhasa Apso mix
Male
Small (6-20 lbs)
Status: In memoriam
Lhasa Apso mix
Male
Small (6-20 lbs)
Status: In memoriam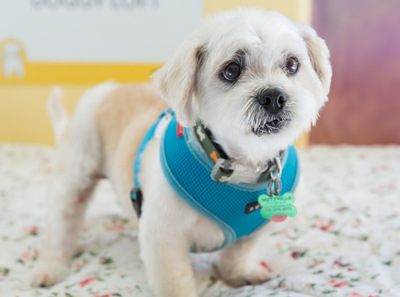 Goofy, goofy, Gomer! What a character this boy is. It may take a minute for him to warm up to you, but once you gain Gomer's trust his love is so rewarding because you know it's true!
This little guy was found as a stray wandering the streets of Stockton in the Central Valley. Sadly, we don't know much about his history since he was a stray. After being at Muttville for over 6 months (can you believe it?!) we have seen him blossom and learned some fun facts about this munchkin -
1. He has more energy than you might think – check him out bounding up his fosters stairs – Gomer's little prance is too ridiculously cute.
2. He is absolutely adorable with long or short hair.
3. After some much needed dental work done while in our care his tongue hangs out which gives him the most precious little derp face.
4. Like most old men, he likes to do things on his own terms! If you've seen the movie Grrumpy Old Men then you know exactly what we mean! Like most old men, he has a sore back so it can be uncomfortable for him to be picked up – but he can still hop up on his favorite stool or bed when he wants to.
Gomer has lived with other dogs, but will tell them off if they get too close and invade his personal space. A calm dog would probably be the best furry sibling for Gomer. He is perfectly happy with very short walks or even no walks at all. He pees right away when taken outside and given a choice he will quickly turn around and go right back inside. Though he soldiers along if his foster insists on a walk.
His foster reports that now he's starting to cuddle more and show affection. He'll sit on her lap, or lie next to her and fall asleep while she pet hims. If she walks into the kitchen Gomer jumps up and follows her in hopes of a treat! And he totally tolerates being groomed.
We think this great guy is about 11 years young.
Sadly, Gomer has passed away. But thanks to wonderful friends, he spent his final days in a loving home.