Gladys 2
Labrador Retriever mix
Female
Medium (20-50 lbs)
Status: Adopted
Labrador Retriever mix
Female
Medium (20-50 lbs)
Status: Adopted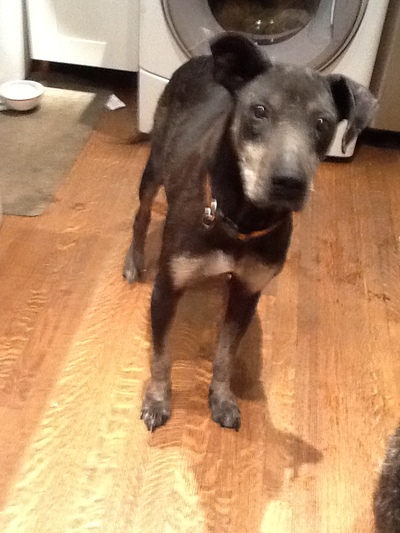 Meet Gladys, this sweet girl has had a checkered past, she was rescued from the shelter by someone that was never really checked out. When she resurfaced, she was in a horrible situation with other dogs in a hoarding home, she had lost most of her hair and was suffering from an untreated skin condition.
Gladys is small black lab mix, she is sweet and gentle, we thing she is about 11 years old. She has new hair growing in and he personality is coming to life. She has a waggy tail and is great with all the people she meets. She is housetrained, good with cats and dogs, too.
What an amazing spirit she has!!
All she needs now is a loving home!!
We're delighted to report that Gladys is currently in a loving and caring home. Thanks to all the wonderful friends of Muttville who helped to make this happen.