Frisco 4950
Maltese Mix
Male
Small (6-20 lbs)
Status: Adopted
Maltese Mix
Male
Small (6-20 lbs)
Status: Adopted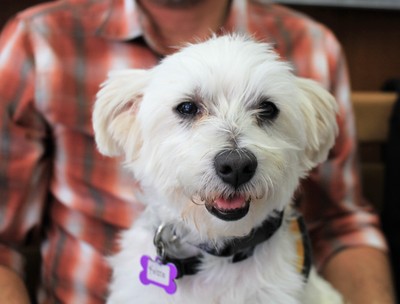 Come meet Frisco, a handsome little pup who will enamor you with his sweet disposition!
Frisco comes to us from Central Valley, and can't wait for Muttville to help him find his new beginning. This adorably handsome boy loves to meet new people, and will confidently waddle over to introduce himself. He politely explores his surroundings and gets along well with other dogs. This sweet gentleman is a social butterfly and would love to join you on fun days out!
We think Frisco is around 10 years young and weighs around 11 pounds.
Here's what Frisco's foster thinks about this sweet boy:
Frisco loves to be with his people, he is a very sweet dog. Frisco has a low to moderate activity level. He'll fall asleep next you very fast. He likes to go for multiple short walks & enjoys short wrestling sessions. Frisco is very social with other dogs & is well behaved/disinterested around non-canines. He needs some work on house-training, having a schedule for walks has helped. When alone he likes to sleep in his bed, otherwise he will sleep near/next to you. He is just the cutest!
We're delighted to report that Frisco is currently in a loving and caring home. Thanks to all the wonderful friends of Muttville who helped to make this happen.