Famu 1376
Terrier mix
Female
Small (6-20 lbs)
Status: Adopted
Terrier mix
Female
Small (6-20 lbs)
Status: Adopted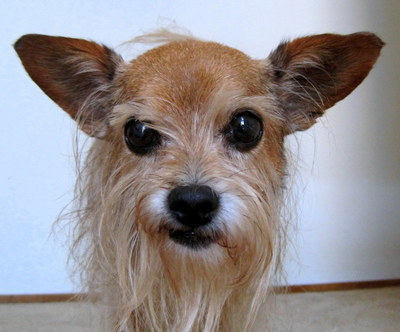 Such a darling little girl who deserves so much more than what she's had. Fanu is a 10-12 year old mystery terrier mix who ended up at the Merced shelter as a stray. She's not been well-cared for and is in need of lots of groceries. We're getting her teeth cared for and she will feel so much better soon.
Good with dogs, cats and respectful older children, she loves all and is a kind little soul.
Now that she's safe and sound, she's coming out of her shell and starting to smile. She seems to get around ok and sure moves quickly if it is treat time!
Fanu is a quiet and loyal dog who will hero-worship her new family. We think she will be happiest in a mellow and gentle home. She doesn't ask for much at all, just love.
We're delighted to report that Famu is currently in a loving and caring home. Thanks to all the wonderful friends of Muttville who helped to make this happen.