Eleanor 4790
Chihuahua Mix
Female
Toy (under 6 lbs)
Status: Adopted
Chihuahua Mix
Female
Toy (under 6 lbs)
Status: Adopted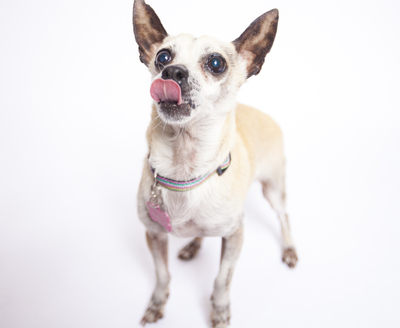 Eleanor is an adorable little Chihuahua mix who was recently found as a stray here in San Francisco.
Despite all the recent changes in her life, Eleanor is a sweet and social girl who wants nothing more than someone to love her. She is a tiny little thing and would be the perfect size to take with you wherever you go. She is quiet, low-maintenance and very sweet… making her the perfect little companion! Eleanor does great with dogs of all sizes, loves going for walks, and is ready to find her forever home with a special family!
Eleanor is 12 years young and weighs 6.2 pounds.
Here's what Eleanor's fosters have to say about this cute gal:
Eleanor is a sweet, mellow little girl! She loves a good meal and belly rub. She'll snuggle up next to you on the couch to get in perfect position for a belly rub, and will keep readjusting to remind you she's still there! She is VERY quiet & doesn't make a peep when I leave. She seems to like her crate, and jumps right in when I leave for work & to sleep in her bed in the evening. She's adapted well to the traffic & noise on Van Ness and isn't afraid to cross the busy street anymore. She gets along great with other dogs. We're working on her house training – she is starting to go outside more often with a few accidents inside. She also does a "praying" beg, waving both front paws together, when sitting waiting for her food, a treat, or even to get on the couch. Eleanor also quickly took to riding with me on my bike. She sat right down in my backpack, perked her ears up, and sniffed the breeze as we rode home her first day with me!
Eleanor is a sweet sweet dog! She is a total love bug, and just wants to be on your lap or around you all the time. She is also very quiet, and has only barked once in the week that we have hosted her! She makes a "huff" noise frequently, especially when she wants something, so we have started calling her Miss Hufflepuff. There is a lot of construction going on around where we live, and she is not bothered at all by the noises or commotion. She is very relaxed and sleeps a lot. However, she does keep up with our younger dogs, and she peps up when we go somewhere exciting like the beach. She is great around other dogs! She holds her own, and gets along with my two younger, bigger dogs. She also goes to the dog park with my dog walker and her "pack" of dogs, and she has no problem there. She has accidents every so often, but she will go outside if we take her out frequently. She has gotten better about it over the week as we have created a routine. She does a happy praying dance when she gets excited, which is possibly the cutest thing I have ever seen. She has claimed a mini bean bag as her bed, and it is her favorite place to nap. We put her in a large crate when we are not home, and she seems to enjoy it. She sometimes goes into the crate on her own even when we are around.
More of Eleanor on video here!!
Watch her howl after a fire truck went by!
We're delighted to report that Eleanor is currently in a loving and caring home. Thanks to all the wonderful friends of Muttville who helped to make this happen.