Darla 3
Miniature Poodle
Female
Small (6-20 lbs)
Status: In Muttville's hospice program
Miniature Poodle
Female
Small (6-20 lbs)
Status: In Muttville's hospice program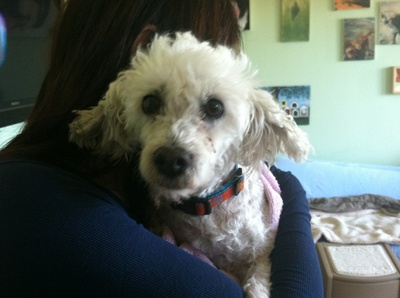 Darla is a very special little poodle who came to Muttville after being in a very abusive household.
When Darla is comfortable with her person, she will snuggle up their arms and fall asleep. It does take her some time to build trust with humans, but we respect her space because of her horrific past. She deserves only the best after all she has been through.
Darla must go to an adult only, quiet home that is dog experienced and patient.
After being diagnosed with a terminal illness, Darla is living life to the fullest in our Hospice Program, under which one of our special hospice families has provided her with a loving home and the very best possible end-of-life care. Please wish Darla well!

Would you like to support the dogs in Muttville's Hospice Program through a donation? Click here to donate items, services or funds.