Dallas
Chihuahua Mix
Male
Small (6-20 lbs)
Status: Available from another organization
Chihuahua Mix
Male
Small (6-20 lbs)
Status: Available from another organization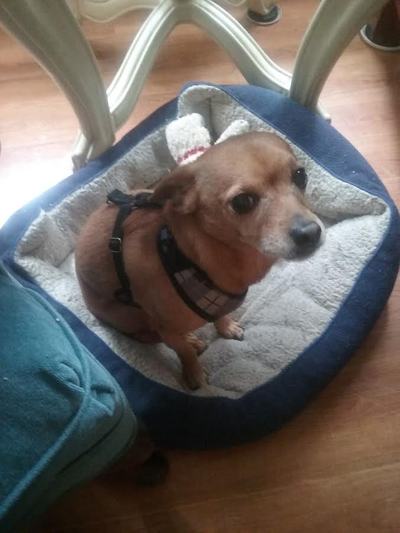 Dallas is about 12 years old, a mixed chihuahua male dog. Hes fixed, micro-chipped, and should be up to date on vaccinations. He does have a medical history with Dr Sawyer in Sunnyvale, CA.
His mom can no longer care for him due to poor health.
Physically there are no issues for the dog, he's healthy. We do have behavioral issues and have been unable to train him to be house broken. And we can not leave him outside for more than 10 minutes without him constantly barking to be let in. He requires at least 4 outside walks daily which is difficult for my mom. I have entirely too much on my plate already to take this chore on. We decided we needed to re-home him. He is often timid of men and beards. He barks a lot as well (when left outside alone). Other than those issues he would be great.
We felt that the pound will end up putting him to sleep because he won't likely be adoptable, so thought it more humane to have him euthanized at home. At least he wouldn't feel scared, abandoned and spend his last week of life in place like that, alone. Turns out that's probably not likely an option since he isn't sick.
I'm attaching some pictures of Dallas. He is actually a sweet dog and people do compliment him as good looking.
Thank you.
Best Regards,
Debra Rodriguez
669-264-6872
As of 11/13/2017 Dallas is still searching for a new home.
This is a courtesy listing from another rescue organization. If you are interested in adopting Dallas and want to learn more about him, please contact: Debra Rodriguez 669-264-6872 or debmckrod@gmail.com.
Posted on 06.22.17