Cow Belle
Shih Tzu mix
Female
Small (6-20 lbs)
Status: In memoriam
Shih Tzu mix
Female
Small (6-20 lbs)
Status: In memoriam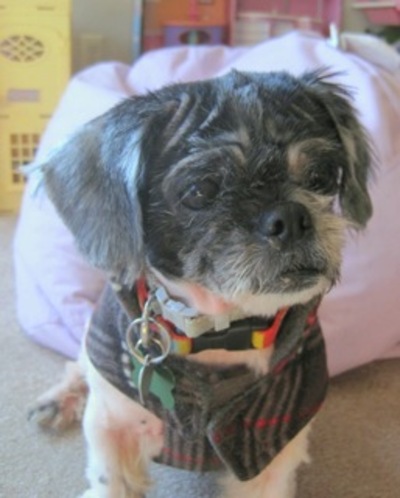 Dear friends of Cow Belle,
My (and everyone's) beloved Cow Belle has passed away yesterday. As some of you know, she was suffering from seizures that recently got worsened. Other unexplainable complications hit her yesterday that, according to the trustworthy vet, "her body is telling it's time to go." She passed peacefully in my arms.
Cow Belle was one of the most perfect embodiments of love in presence on this earth – giving/receiving by just being. She was also a trooper, never letting life's inconveniences down her. I am incredibly fortunate and eternally thankful to have her, as well as all of you who care deeply about both of us, in my life.
I am hanging in there, remembering her example of being content, telling myself she'd like me to stay healthy and happy. So is Katy, who seems to have known it even before I did and was trying to show affection to her sister in her own quirky ways.
For those of you with dogs/animals – I realized it's never too early to prepare for their passing, emotionally and logistically. I kept putting it off until "the time comes," but the time comes before you know it.
For those without dogs/animals – All the resources and tears I have shed are practically nothing compared to what I have received, and my life has changed forever for the better because of her. I'd respectfully ask you to consider inviting one of these angels to your life, directly or indirectly, at a time/in a way that is most appropriate for you.
Please know your prayers have been answered beautifully to smoothen this transition. Now, please join me in sending blessings to her who must be running, smiling, and eating without any restraint in the place full of joy, free of pain.
With gratitude and hope,
Seon Joo & Katy
Sadly, Cow Belle has passed away. But thanks to wonderful friends, she spent her final days in a loving home.