Cinnamon Girl
shep mix
Female
Medium (20-50 lbs)
Status: In memoriam
shep mix
Female
Medium (20-50 lbs)
Status: In memoriam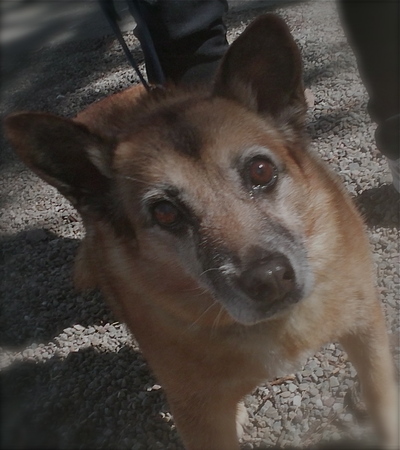 Cinnamon Girl came to live with us when she was sixteen, mostly blind and deaf. We knew we were on bonus time with her but there was something special about this girl. Our first thought was for her to be a companion to our 16 year old border collie, who had just lost her lifelong mate. We thought we knew a thing or two about older dogs but she had so much more to teach us. As it turned out, we lost our border collie within a few weeks of Cinnamon's arrival and were fortunate to spend nearly two more years with her. Even though blind and deaf she still got around well. She wanted to chase tennis balls and go for walks and be an active part of our lives, it just had to be at her pace. We came to love her spunky attitude and zest for life. She came to love being cuddled and loved on. In her final days when things slowed down for her, she simply wanted to be held while we lay by her in her bed. We gave her what she wanted most and helped her cross over the rainbow bridge in loving arms. Sharing life with the oldest of old dogs becomes life a day at a time. We are eternally grateful to Muttville for rescuing her so we could spend these bonus years with our Cinnamon Girl. She will be remembered always with love.
Thank you to all for their outpouring of support and condolences to Debra and Dave on our Facebook page.
Meet Cinnamon, just a littlebit overweight at 35 pounds. You must meet this gorgeous redhead! She's a sweetie, She was initially kenneled with 3 other dogs, whom she ignored. When I took her to the little yard today, she showed interest in ball play, but being an old gal, didn't do much with the ball.
Her guardian passed way and she was not going to make it out of the shelter alive- until they called Muttville!
Cinnamon is such a happy girl! She loves getting affection, is housetrained, and if I didn't know she was 16 years old, I wouldn't have guessed it at all, her eyes are so clear and she gets around really well! she is interested and engaging and great company!
She will make someone very very happy!
Sadly, Cinnamon Girl has passed away. But thanks to wonderful friends, she spent her final days in a loving home.