Butch 4549
Corgi Mix
Male
Small (6-20 lbs)
Status: Adopted
Corgi Mix
Male
Small (6-20 lbs)
Status: Adopted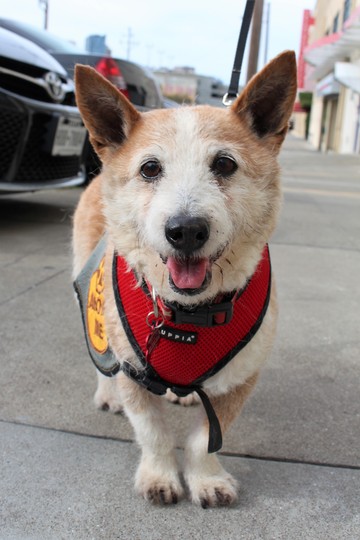 How adorable is Butch!? This cutie's owner passed away so we wanted to step in and find him a great new home to spend his golden years in. Despite his age, Butch loves to explore and hang out. He enjoys going for walks or just sitting in your lap. Butch does great with other dogs and nothing really seems to faze him. If you're looking for a companion dog who can relax you and keep you company- Butch may be the right pup for you! We can't get enough of his adorable scruffy coat and old man charm!
Butch is 14-16 years old and weighs 18 pounds.
Here's what Butch's foster has to say about this great guy:
Butch is quiet, sweet, and mellow. He enjoys easy walks & can go up and down the stairs. He mingles well and gets along with dogs of all sizes. He needs some house-training with a few accidents in the house. He has a great appetite, takes his meds easily (hidden with treats), enjoys cuddling on the couch or in bed, likes to sleep in the same room with you. He never barks, is gentle with guests, loves being held, and has stayed really fit for his age. We love Butch and have enjoyed all the time we can get with him.
Meet Butch, what a nice gentleman he is!
We're delighted to report that Butch is currently in a loving and caring home. Thanks to all the wonderful friends of Muttville who helped to make this happen.