Bumper
Shepherd/Corgi mix
Male
Small (6-20 lbs)
Status: Adopted
Shepherd/Corgi mix
Male
Small (6-20 lbs)
Status: Adopted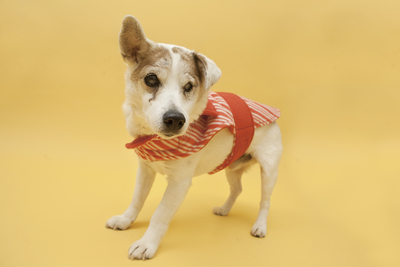 Bumper is a 12 year old corgi mix, possibly with some shepard or jack russell terrier. He was rescued from a high kill shelter by Muttville and has nothing but love for other dogs and people. Despite being completely blind and partially deaf, this little guy gets around very well. He is always able to find food and the warmest places to sleep whether it be laying in the sun or cuddling with his human. This guy is quite the explorer and enjoys going to the park and taking in all the smells.
Bumper fills the home with loving laughs as he is a silly little guy. He has learned to play with Kongs and has even mastered stairs (though he takes them very cautiously). Bumper does not walk on leash, but always sticks close by to his person, so he will do best in a home with a yard. He is housebroken if he is taken out every few hours and would do best in a quiet home where furniture is not moved around and he has room to explore. He receives love from everyone he meets and is looking for someone he wants his unconditional love.
Check out Bumper's video
We're delighted to report that Bumper is currently in a loving and caring home. Thanks to all the wonderful friends of Muttville who helped to make this happen.