Bobo 3
Pug
Female
Small (6-20 lbs)
Status: Adopted
Pug
Female
Small (6-20 lbs)
Status: Adopted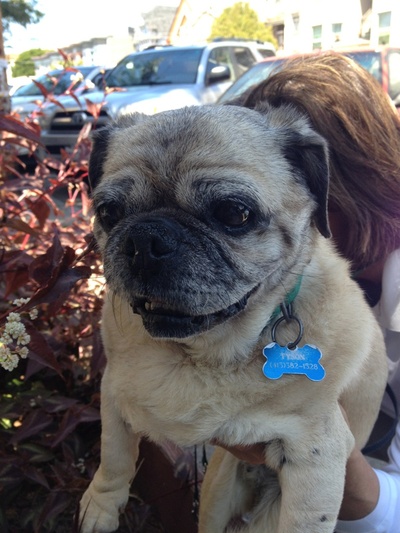 Bobo is a lovely 12 year old girl who's had a tough few years. Muttville saved her from a extreme neglect situation where she was kept in a 5′×5′ space with her two sons. It was rarely cleaned and the dogs were not taken outside. Her son, Midget, died before they got help. Her other son, Tyson, survived.
Bobo is a sweet gal who likes a short walks to the park, especially if she gets to walk near you. Her back legs keep her moving but she does have some weakness and needs to get stronger. She has long, soft fur and sees fairly well out of her left eye. Her right eye needs daily treatment for dry eye.
She is a feisty lady but also loves to curl up on a dog bed and snooze. Bobo is looking for someone special to help erase the difficult years with lots of love and care. Could that be you?
We're delighted to report that Bobo is currently in a loving and caring home. Thanks to all the wonderful friends of Muttville who helped to make this happen.