Bob Marley 3991
Cocker Spaniel mix
Male
Medium (20-50 lbs)
Status: In hospice care
Cocker Spaniel mix
Male
Medium (20-50 lbs)
Status: In hospice care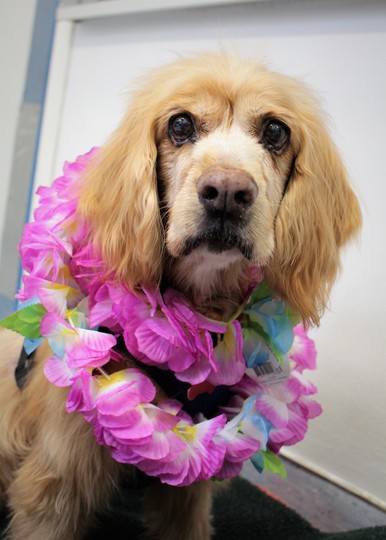 Looking for a mellow fella to add to your home? Look no further than Bob Marley! He doesn't let his past get him down, he has a sunny disposition and brightens every room he enters. We think he'll brighten up your life too! You can't help but smile from ear to ear when this silly boy is around. Bob Marley can't wait to find his forever home where he'll get spoiled rotten just like he deserves!
Bob Marley was found to have skin masses that will need continuous care, and he has Cushings Diease. Due to this, and his advanced age, we are looking for a loving fospice home for this special boy. On a plus side, he is a quiet boy that is housetrained! He asks for so little, please think about opening your heart and home to this sweet boy!
This is what his wonderful foster family had to say:
"We are Bob's foster parents and we love him so much. I think he would be a great fit for you in so many ways. He is very loyal, staying by our sides at all times. He loves to walk and eat his food and treats. He is very curious and affectionate and likes to cuddle. He also is very good riding in cars. He is completely house trained, will wait for his food until beckoned and can even shake!"
We think Bob Marley is 14 years young, weighing about 30 lbs.
Bob Marley knows his future will be brighter, watch here!
Watch him motoring around Muttville after a haircut!
After being diagnosed with a terminal illness, Bob Marley is living life to the fullest in our Hospice Program, under which one of our special hospice families has provided him with a loving home and the very best possible end-of-life care. Please wish Bob Marley well!

Would you like to support the dogs in Muttville's Hospice Program through a donation? Click here to donate items, services or funds.