Blanca 4487
West Highland Terrier (Westie)
Female
Small (6-20 lbs)
Status: In memoriam
West Highland Terrier (Westie)
Female
Small (6-20 lbs)
Status: In memoriam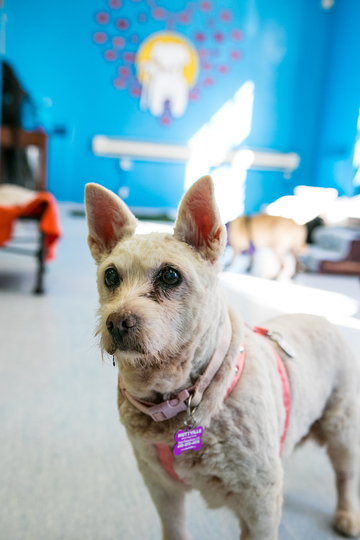 Adorable girl Blanca comes to us from Berkeley. She was surrendered for adoption for unknown reasons so we don't know anything about her previous home life. What we do know is that Blanca blossomed the second she came to Muttville! Blanca went from laying down all day to exploring, making new friends, and enjoying life once again. Blana does great with dogs of all sizes and is friendly with all people. She has slowed down quite a bit at her age and would do well with a mellow adopter who could make her golden years as enjoyable as possible. Do you have lots of love to spare for an adorable senior dog? Then look no further then sweet Blanca!
"Hi all,
I wanted to let everyone know that Roomba (formerly Blanca), passed peacefully over the doggy rainbow this morning. Her health took a turn for the worst in Saturday, and since she was in so much pain, I thought it best to let her pass. She brought me so much joy and laughter (especially laughter) from her brief few months with me. Roomba always seemed to be in a bit of an existential crisis from her long stares at the wall and looking off into the distance, but the way her little tail wagged and her sniffing around the house for food let me know she was still happy and hungry.
Thank you for connecting me with me Roomba. I wish I had more time with her, but I'm glad I could atleast spoil her up until the end. It was a very special experience.
Here's some pics to commemorate silly Roomba!"
Sadly, Blanca has passed away. But thanks to wonderful friends, she spent her final days in a loving home.