Bijou 3
Miniature Poodle
Female
Small (6-20 lbs)
Status: Adopted
Miniature Poodle
Female
Small (6-20 lbs)
Status: Adopted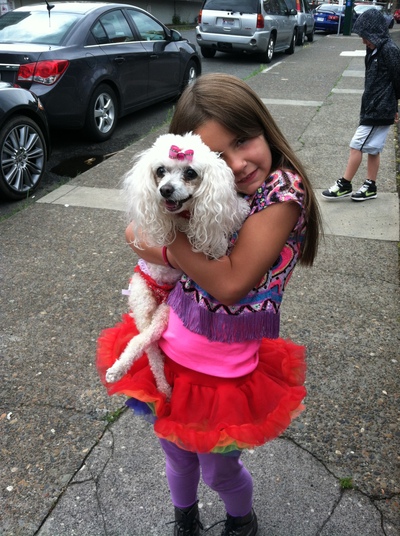 Bijou is a 10 year old pedigreed apricot mini poodle. She had lived with her mom Loretta Spenser, her whole life. About 5 years ago Bijou jumped off the bed when she was playing with her chihuahua buddies and a disc in her back got damaged so she's been paralyzed since then. Loretta herself was disabled, but PAWS came to the rescue and helped Loretta with Bijou's care, and even helped get her a wheelchair so they could go for walks together. Bijou was a PAWS cover girl too!
Sadly Loretta passed away in Portland where they had moved to be closer to family. As happens so often the family isn't capable of caring for little Bijou so we've brought her back to San Francisco where she has lots of support and helping hands.
She is an easy going girl and is happiest just being by your side. She's smart and engaged in the world around her and will help you around the house by letting you know when someone is at the door, the phone is ringing, or that it's meal time. She loves her wheelchair and zooms around in it like a little speed racer! Since she's paralyzed she does have to wear diapers, and she's very cooperative about changes.
Her veterinarian, Rachael Feigenbaum of Lotus Veterinary Housecalls, has offered free medical care for life to Bijou, so you wouldn't have to worry about her care. But Bijou's a very healthy girl and has had great care her whole life so that shouldn't be a concern.
Bijou is good with other dogs her size, is wary of cats, likes older children who handle her gently, and all adults. She can be silly and likes to play and will make a loving and fun best friend.
Check out Bijou in action
We're delighted to report that Bijou is currently in a loving and caring home. Thanks to all the wonderful friends of Muttville who helped to make this happen.