Betty 1427
Chihuahua/Doxie Mix
Female
Small (6-20 lbs)
Status: Adopted
Chihuahua/Doxie Mix
Female
Small (6-20 lbs)
Status: Adopted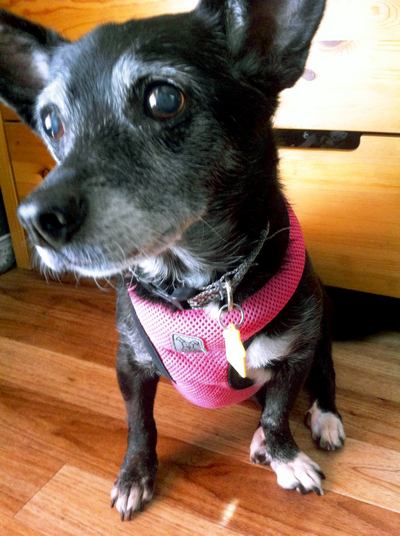 On a recent August afternoon, a man walked into Wardlaw Dog Park in Vallejo, CA and asked a regular at the park to watch his dog while he went to his car. The man drove away and never returned. We now call that sweet little girl that he left behind, with no care of who would take care of her, Betty. Betty has arrived at Muttville, hopefully to leave behind the painful memories of her past and make new happy ones with a new forever family.
Betty's muzzle has some gray on it, but she's still full of life and love. This beautiful little "chi-weenie" mix is very easy going, loves her humans and is getting along well with the other fur babies in her foster home!
Betty does have some visual impairment and since she's been rescued, she's had to have several teeth removed, but you would never know it from her determined and happy-go-lucky spirit. She's more than content to wander around and sniff the world, go for mellow walks or just sit by your side and receive your love and affection.
Betty so deserves a new life with a companion or family that will cherish and love her for the rest of her happy life. And she'll be sure to return the favor.
Her foster parents still call her Lola (but since we already have a "Lola" here at Muttville, we're listing her under "Betty." However, by now she's probably used to Lola.
Watch some of these videos of Betty(Lola) to see just how sweet she really is!
And here's a video of Betty wandering around the dogpark, making friends:
We're delighted to report that Betty is currently in a loving and caring home. Thanks to all the wonderful friends of Muttville who helped to make this happen.