Annie 4980
Chihuahua Mix
Female
Toy (under 6 lbs)
Status: In Muttville's hospice program
Chihuahua Mix
Female
Toy (under 6 lbs)
Status: In Muttville's hospice program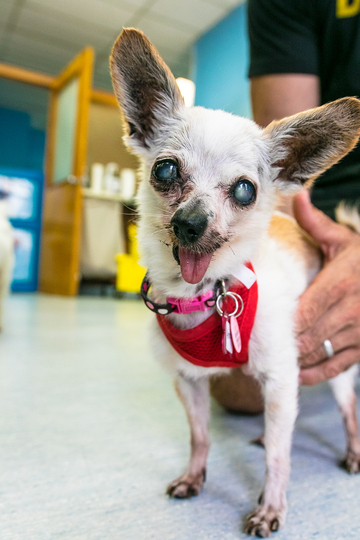 Darling little orphan Annie is as tiny and and as precious as they come!
Annie comes to us from Tulare where she was found as a stray. This lovable old girl can't wait for the sun to come out tomorrow, so that she can find a forever home where she can rest her old bones in her golden years. She is curious about her new surroundings, and even though she seems to have some sight issues she has been politely and calmly exploring Muttville. Annie is good around dogs and people and loves a nice comfy bed to cuddle up on. Do you have room to love tiny pocket-sized pooch Annie?
We think Annie is around 16 years young and weighs around 3 pounds.
Due to Annie's advanced age and kidney disease, she is available for adoption through Muttville's hospice care program.
After being diagnosed with a terminal illness, Annie is living life to the fullest in our Hospice Program, under which one of our special hospice families has provided her with a loving home and the very best possible end-of-life care. Please wish Annie well!

Would you like to support the dogs in Muttville's Hospice Program through a donation? Click here to donate items, services or funds.