Abby 1438
Golden Retriever
Female
Large (50-90 lbs)
Status: Adopted
Golden Retriever
Female
Large (50-90 lbs)
Status: Adopted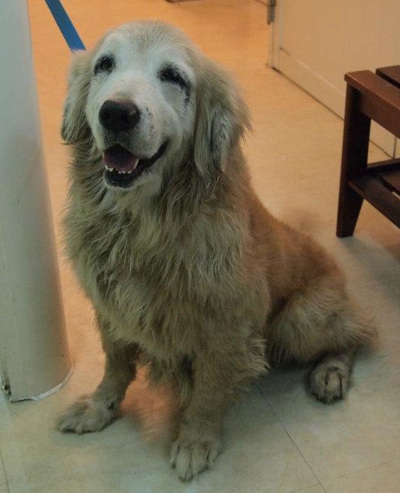 Sweet Abby has not had an easy life and it shows all over her body, but not a bit in her spirit. Abby, a golden retriever, that we think is between 8-10 years old, came to Muttville with a group of other dogs that had been rescued off of the streets of Taiwan. As we've learned, those streets can be terribly unkind to senior dogs, and they've been particularly harsh to Abby. It seems as though if ever there was a time in Abby's life when she received any care at all, that time was very brief.
In Taiwan, golden retrievers are overbred because they are cute when they are young, but when they become old, they are often tossed out on the streets. Caring rescues and fosters take some of these dogs in to rehabilitate them in Taiwan, but it's very hard to find homes for senior dogs there. Muttville has been working with a local rescue, Love & Second Chances, to bring some of these dogs over to the states where there is a higher demand for these breeds, and Abby is one of those lucky dogs!
Click here to watch a video from KGO-TV of Abby and her travelling companions arriving at SFO.
Currently we're treating Abby for severe skin infections that aren't contagious but they're certainly not very comfortable for her. She still has some stitches in one of her back legs from surgery she received in Taiwan and she also has arthritis in her spine and back hips that impair her mobility a bit, but…….no one's told her that! This girl has plenty of get up and go and absolutely loves everyone. Life, although it's been unkind to her, is still a wonderful and exciting adventure to her! She gets along great with other dogs and is fine with cats. With a little time, medication and TLC, we'll have Abby looks matching her bright and shiny personality much better.
We're so happy to be able to welcome this beautiful, sweet girl to her new life. But there are still some challenges ahead for Abby. Along with having to learn a new language, Abby is having to learn the do's and don't's of a completely different world than the one that she's lived in her whole life, because no one ever taught her. She's basically like a puppy but much bigger!! Already we're seeing that Abby is extremely trainable and eager to please (and get treats!) There's no doubt that with a little extra patience and effort from her new forever family, she will absolutely be the perfect dog! And she will be a devoted and loving companion to that family in return!
Come meet this special, wonderful soul today and fall in love with Abby!
We're delighted to report that Abby is currently in a loving and caring home. Thanks to all the wonderful friends of Muttville who helped to make this happen.