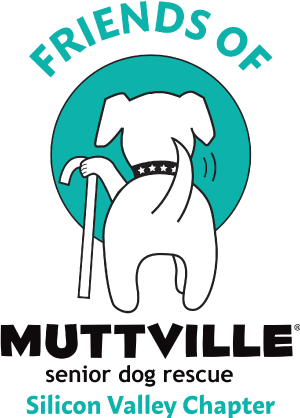 Friends of Muttville was established to create a network of San Francisco Bay Area chapters of professional, aspirational and strategic men and women dedicated to introducing new supporters to Muttville, and to increasing support of Muttville's mission through fundraising, cultivation events, and awareness activities.
Friends of Muttville launched officially in late September 2018 with the first meeting of the Silicon Valley Chapter.
Members of the founding Chapter are dedicated to Muttville's mission and vision, and to spreading Muttville's message throughout the SF Bay Area ... and beyond. Activities include awareness events and projects, fund-raising efforts, and the development of a transferable model of Chapter structure and substance so that future chapters may be established successfully.
Upcoming events
Nothing is scheduled right now, but we're always working on new, fun ways to help and celebrate Muttville, so please check back.
Past events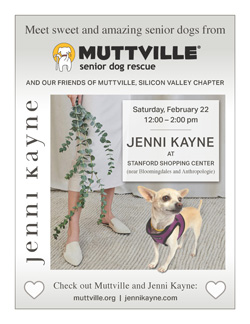 On a crisp, sunny Saturday afternoon, Friends of Muttville's Silicon Valley Chapter joined Muttville in an outreach/adoption event hosted by one of the Center's premier shops - Jenni Kayne.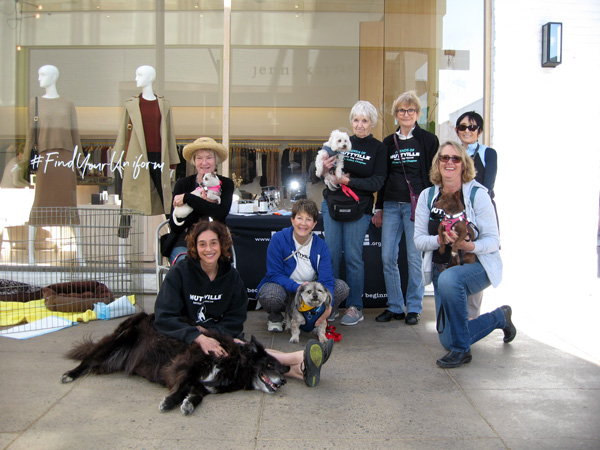 Agatha, Pink, and Round Boi - all so new to Muttville they had not yet appeared on the official website - debuted in grand style. They were joined by veteran Muttville alums Charlie and Lonny (aka "the bear"). This cast of canine stars exerted a magnetic pull on passers-by who stopped to chat, and to give much appreciated mutt-tummy rubs.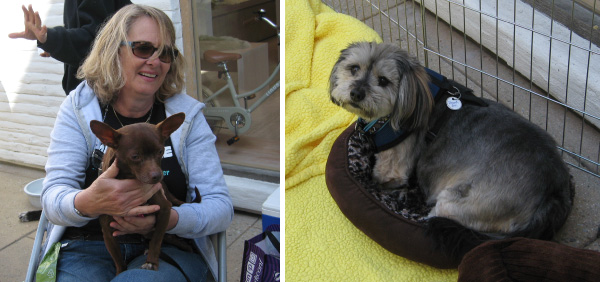 Lights. Camera. Action!!
September 21, 2019
Members of Friends of Muttville Board made their directorial debut at Muttville's 2019 Senior Prom - the Golden Age of Hollywoof - where they rubbed elbows with "Marilyn Monroe," "Charlie Chaplin," "Audrey Hepburn," "James Dean," and other members of cinema's glitterati.
In full director attire and armed with requisite megaphones, cameras and clipboard, they were on the prowl for the silver screen's next big stars ... which turned out to be none other than the Mutts!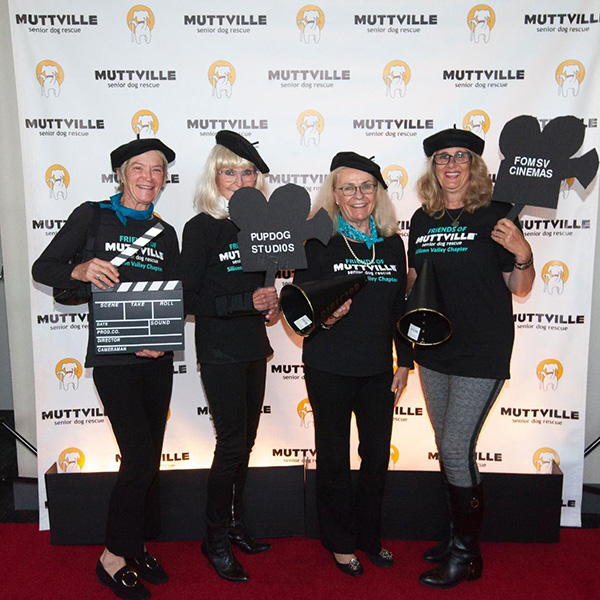 Every Pooch a Winner at Mutt Strutt!
September 8, 2019
Photos courtesy of Craig Hermes
Mutt Strutt Super Heroes Dog Show saw mutts of all shapes and sizes, some of which were members of a dog/"significant human" team while others joined the audience of over 100 spectators to cheer on their favorites in the competition.
The main event of the day was the Super Heroes competition, where more than 35 dogs participated in many categories. Attendees witnessed amazing displays of canine talent in contests for best super hero, best belly rub, best trick, best strutt, best smile, best bling, best formal attire, and best hair. Prizes were awarded for best in each class, as determined by audience applause.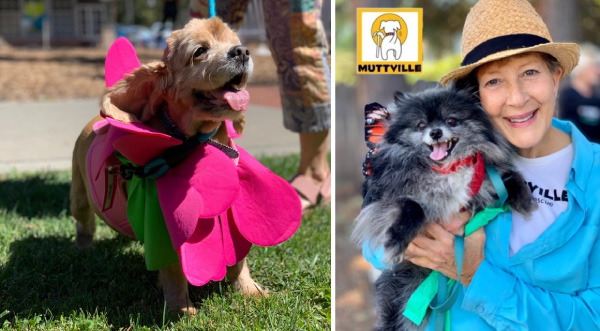 The event began with music and fun games such as "Ring Around the Fire Hydrant" and "Bean-Filled Poo Bag Toss." Muttville founder Sherri Franklin spoke about Muttville and introduced several Muttville dogs that were available for adoption.
"Friends of Muttville was founded less than a year ago, and Mutt Strutt Super Heroes Dog Show was our public kick-off," said Woodside resident Mary Ancell, founder of the auxiliary and president of its Silicon Valley Chapter. "We are really pleased by the good turnout, which was helped by good location, good weather, much pre-event publicity, and the promise of new Muttville supporters.
"The community's response was amazing. While Mutt Strutt was open to the public at no charge, it nevertheless generated initial support of over $2,000. And there are pledges still coming!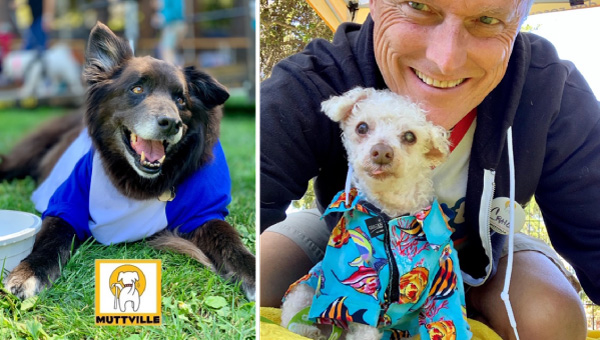 "Much credit goes to the small-but-mighty events group made up of Silicon Valley Chapter's founding members and headed by Chapter Vice President Grayson Martin of Redwood City, to the event's many volunteers, and to the local community, including Peet's Coffee and Tea (Menlo Park), Sigona's Farmers Market (Redwood City), and BowWow Meow (Menlo Park). Additional kudos go to standup comics Mickey Joseph who also served as MC, and Nicole Tran. DJ "Fabulous" Fred provided the musical backdrop.
"And perhaps best of all, there are likely to be two adoptions because of the event!"
Local coverage - and more cute pix!
Friends of Muttville Extend a Paw to Menlo Park's K-9 Unit
August 24, 2019
In August, Friends of Muttville Silicon Valley Chapter took part in "Paws for Paws," an annual community event supporting the Menlo Park Police Foundation and the Menlo Park Police Department K-9 Unit.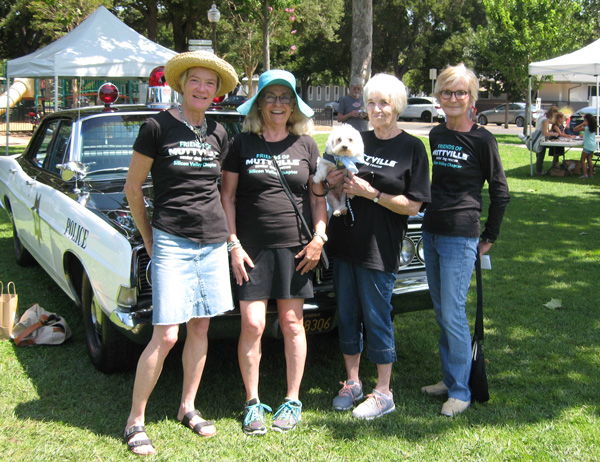 Assisted by Muttville alum, Charlie, members mingled with attendees, viewed awesome K-9 demonstrations by Menlo Park PD and USAR dogs, and promoted Muttville and the Chapter's upcoming "Mutt Strutt Super Heroes" event.

Chapter members were delighted to find many attendees who were Muttville adopters or fosters, others who had heard about the organization and wanted information, and still others who were being introduced to Muttville for the first time.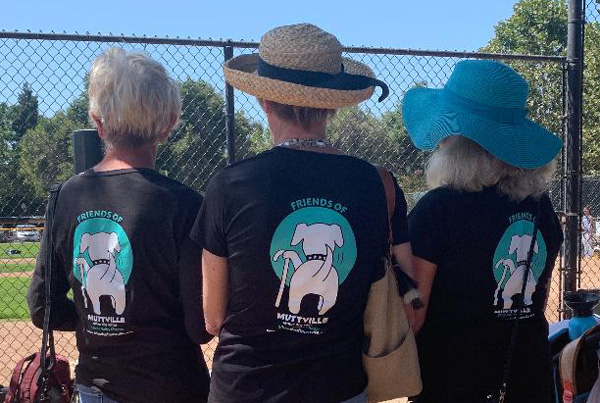 Friends of Muttville plans to participate again in this enjoyable community event. This time with our own booth! Stay tuned ...
Founding members
Mary Z. Ancell
Carin Z. Cartt
Lisa Keith
Grayson Martin
Sarah Rivers
Contact
Friends of Muttville Silicon Valley Chapter
2995 Woodside Road
Box 620145
Woodside, California 94062-0145
www.friendsofmuttville.org
mary.ancell@muttville.org