Mutt Strutt Super Heroes Dog Show saw mutts of all shapes and sizes, some of which were members of a dog/"significant human" team while others joined the audience of over 100 spectators to cheer on their favorites in the competition.
The main event of the day was the Super Heroes competition, where more than 35 dogs participated in many categories. Attendees witnessed amazing displays of canine talent in contests for best super hero, best belly rub, best trick, best strutt, best smile, best bling, best formal attire, and best hair. Prizes were awarded for best in each class, as determined by audience applause.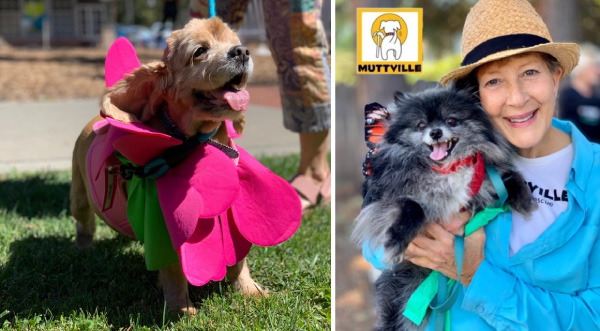 The event began with music and fun games such as "Ring Around the Fire Hydrant" and "Bean-Filled Poo Bag Toss." Muttville founder Sherri Franklin spoke about Muttville and introduced several Muttville dogs that were available for adoption.
"Friends of Muttville was founded less than a year ago, and Mutt Strutt Super Heroes Dog Show was our public kick-off," said Woodside resident Mary Ancell, founder of the auxiliary and president of its Silicon Valley Chapter. "We are really pleased by the good turnout, which was helped by good location, good weather, much pre-event publicity, and the promise of new Muttville supporters.
"The community's response was amazing. While Mutt Strutt was open to the public at no charge, it nevertheless generated initial support of over $2,000. And there are pledges still coming!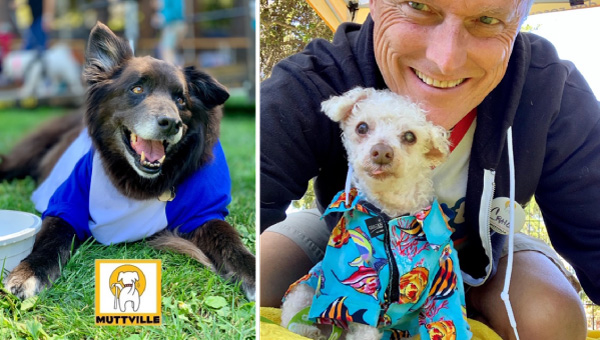 "Much credit goes to the small-but-mighty events group made up of Silicon Valley Chapter's founding members and headed by Chapter Vice President Grayson Martin of Redwood City, to the event's many volunteers, and to the local community, including Peet's Coffee and Tea (Menlo Park), Sigona's Farmers Market (Redwood City), and BowWow Meow (Menlo Park). Additional kudos go to standup comics Mickey Joseph who also served as MC, and Nicole Tran. DJ "Fabulous" Fred provided the musical backdrop.
"And perhaps best of all, there are likely to be two adoptions because of the event!"
Photos courtesy of Craig Hermes
Local coverage - and more cute pix!