THURSDAY, APRIL 25
Creative Wellness Fair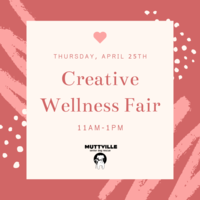 Bethany Center
580 Capp Street map
11:00AM - 1:00PM
Creative Wellness Fair is an all-day free interactive event for people of all ages to explore ways in which they can enhance their quality of life. The event runs from 10AM to 3PM with Muttville mutts present from 11AM to 1PM.
Ruth's Table is committed to providing a safe and inclusive space for our community by facilitating events that aim to connect and impact the public in a positive way and encourage personal growth and well-being.
Featuring a variety of resources, fitness demonstration, creative stations, and interactive live music performances, the event provides valuable insights to maintaining a healthy body and mind.
This event is free to the public and is held at Bethany Center at 580 Capp St, SF.
This is a dementia-friendly event with support from Memory Care Life.