FRIDAY, DECEMBER 13
Holiday Shop for the Mutts!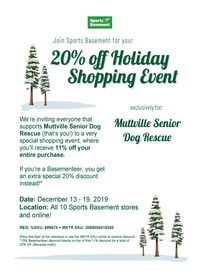 Sports Basement Bay Area & Online
9:00AM - 9:00PM
The holidays are here and there's no better way to find the perfect gift for everyone on your "nice" list by visiting one of the ten Sports Basement locations in the Bay Area OR shopping online!
In fact, from December 13th through December 19th Sports Basement is giving the Muttville community 11% off your entire purchase! If you're a Basementeer, you get an extra special 20% discount instead!
Mention this promotion at the register, or use the MKTR SKU online (2050008415250) to receive your discount! Happy shopping!!
If you're not a Basementeer, you can ask to sign-up that day or sign up here.
This profit-share program is a year-round effort, and all of your purchases made at Sports Basement can support Muttville!